With a distinctive short mane, Przewalski's horse is in a field of its own. Przewalski's horse is the only "wild" horse left on the planet. A rare breed, Przewalski's horse also lives under the aliases of Asian Wild Horse and Mongolian Wild Horse. Never successfully domesticated, many of these horses were displayed in zoos instead.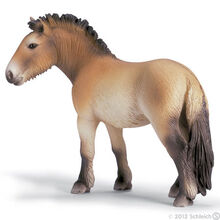 Horse: 13620 
Edit
Size:  10 × 5 × 8.5 cm (W/D/H)
This Horse became a collectible at the end of 2011, featured on the 2011 collector's poster on Schleich's website.
Binomial name
Edit
Equus ferus
Conservations status
Edit
Domesticated [do]
Global Home
Edit
Worldwide
Similar in stature to other horses, Przewalski's is stocky and fairly short, standing only about thirteen hands tall. Living in groups with a male at the head, these horses traverse their own range but are more protective of their mares in the wild.
http://www.schleich-s.com/en/CA/consumer-service/collectors-items/2011/farm_life/przewalski_s_horse/